Advancing independence, integration, and inclusion throughout life
[ACL, [https://acl.gov/ June 2020] The Administration for Community Living (ACL) was created around the fundamental principle that older adults and people of all ages with disabilities should be able to live where they choose, with the people they choose, and with the ability to participate fully in their communities.
By funding services and supports provided by networks of community-based organizations, and with investments in research, education, and innovation, ACL helps make this principle a reality for millions of Americans.
ACL advocates across the federal government for older adults, people with disabilities, and families and caregivers; funds services and supports provided primarily by states and networks of community-based programs; and invests in training, education, research, and innovation. We manage a variety of programs (authorized by several statutes), providing assistance on health and wellness, protecting rights and preventing abuse, supporting consumer control, strengthening the networks of community-based organizations, funding research, and much more.
Explore the links below for more information about ACL's programs:
Aging and Disability Networks
Connecting People to Services
Consumer Choice and Contro
Data Collection Projects
ACL programs
ACL Facebook
ACL Twitter
The First "Virtual" EJCC: Addressing Scams, Fraud, and COVID-19
June 12, 2020
On Wednesday, I had the honor of chairing the first-ever virtual meeting of the Elder Justice Coordinating Council.
The EJCC brings together leaders from across the federal government to address issues of elder justice nationally. Council members include the leaders of federal departments, agencies, and entities administering programs related to abuse, neglect, or financial exploitation. We were excited to welcome the U.S. Department of Homeland Security, marking the 15th member of the EJCC.
I'll be honest, we thought fleetingly about postponing this meeting until we could meet in person. But we knew right away that the COVID-19 pandemic makes the work of the EJCC even more urgent.
This point was underscored by Secretary of Health and Human Services Alex Azar, who noted in his introduction to our meeting that the pandemic and social isolation increase the risk of abuse, neglect, and exploitation faced by older adults.
Sec. Azar made clear that "concern for older Americans has to be at the center of our COVID-19 response." (Watch Secretary Azar's recorded opening remarks.)
Over the last three months, we have seen the emergence of an alarming number of new scams and fraud schemes taking advantage of the coronavirus pandemic. Today's EJCC meeting sought to shine a light on financial exploitation during this pandemic and the work being done to fight these pernicious practices around the country.  [Read article]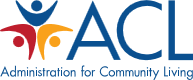 Events and Observances
May is Older Americans Month and June 15 is World Elder Abuse Awareness Day. Learn more about these and other events and observances.
Reading Room
Links to reports, articles, and resources that provide background information about issues surrounding aging and disability. This is a new section — check back for updates, and please let us know what you'd like to see here!
Speeches and Testimony
Currently includes speeches and Congressional testimony from prior ACL leaders.
Downloads and Multimedia
Logos, fact sheets and videos, with more coming soon.